Efficient design of equipment has direct influence on the quality and yields of oil and meals, as well as ensuring efficient functioning and maintenance of oil extraction equipment. Our government recognised in house R&D Centre has developed optimal treatment systems tailored to the individual characteristics of the oilseed to be processed.
These developments have been put to use in actual production conditions under the philosophy of "maximum profitability and quality at minimum cost", making them one of the best available in the international market.
Our pretreatment equipment comprises efficient seed cleaning units, hullers, hull separators, cracking roller mills, crushers, flaking roller mills, automatic cookers, screw presses, expanders and oil clarification equipment.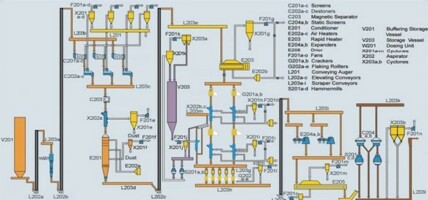 The first stage in the raw material handling line is the removal of all dust, lints, sticks, stems, leaves, sand, stones and other impurities. Tramp iron pieces are removed by magnetic separators. When foreign particles like stones having the same size as the seeds need to be removed, special destoning machines are incorporated in the cleaning line.
Hulls are removed from the seeds to increase the protein content of the meal, to reduce its fibre content and to increase the effective capacity of the extraction equipment. Special decorticating and hull separating equipment is selected according to the type and nature of raw material to be decorticated. Low oil residue in the separated hulls is assured.
The organic impurities include the stem leaf, cord, chemical fibers, velveteen and their seeds. The inorganic impurities, however, sometimes mean soil, dinas and metal.The vegetable oil processing industry involves the extraction and processing of oils and fats from vegetable sources. The preparation of raw materials includes husking, cleaning, crushing, and conditioning.